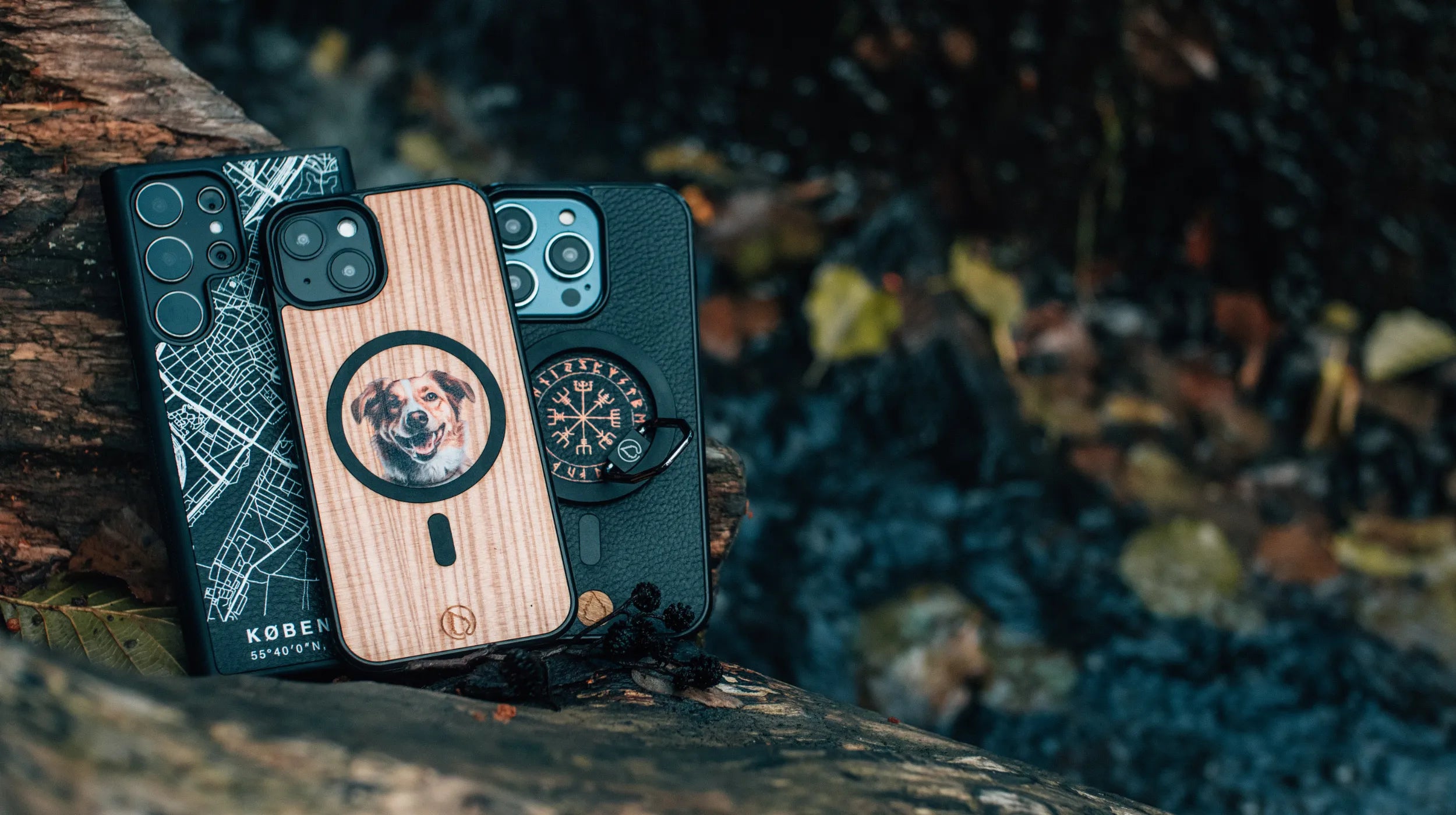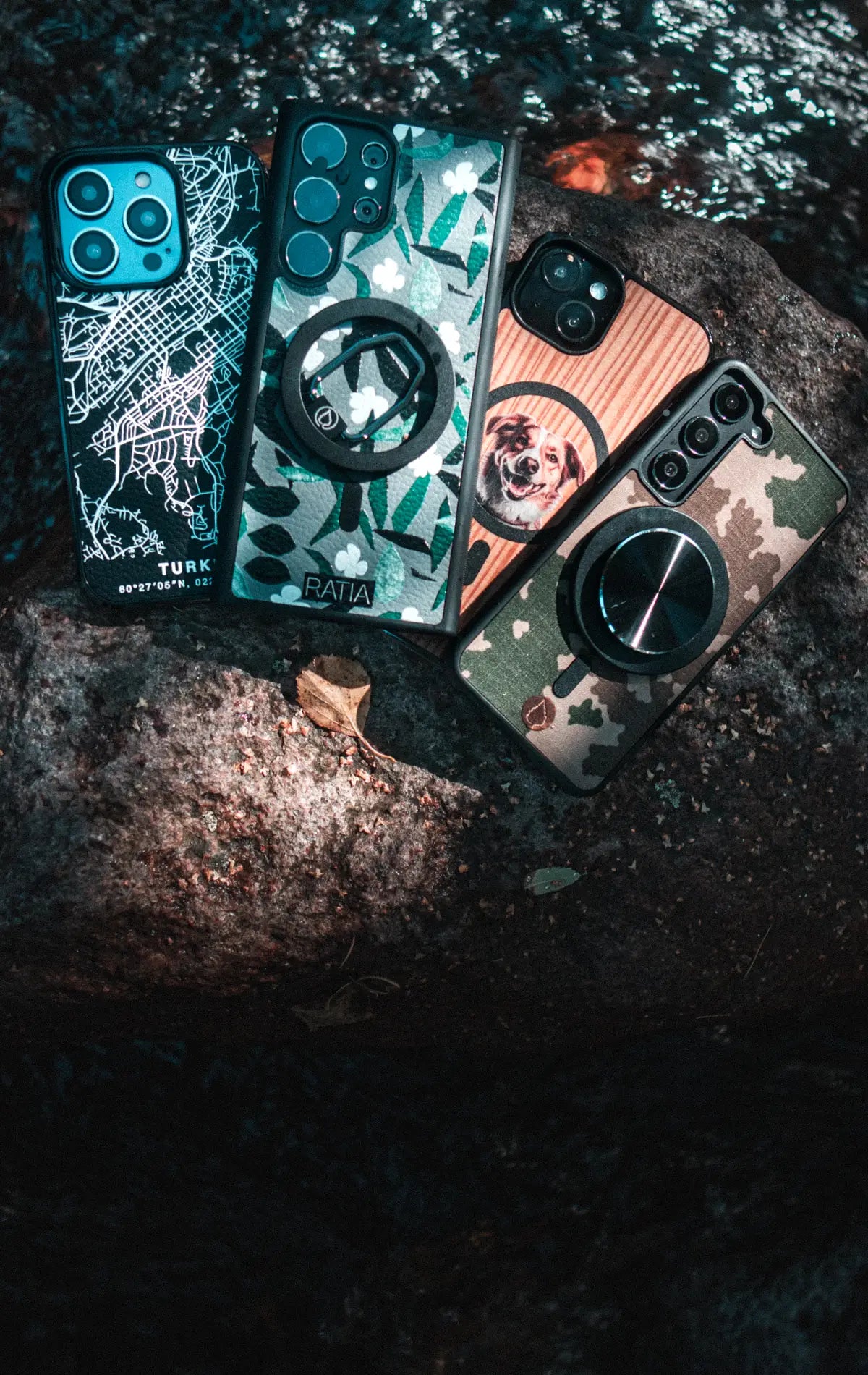 Tailor-Made Phone Cases for iPhone, Samsung, OnePlus, Xiaomi, Pixel & Nothing - From Finland Since 2011
STAY UNIQUE, EXPERIENCE GENUINE
EMBRACE NATURE WITH OUR AWARD-WINNING PHONE CASES
Each Lastu is made after you have ordered it. We manufacture the case based on the choices you make on the product page. This is the best option for our environment, because every year more than 1.5 billion unsold phone cases go to waste in the world. Lastu is not involved in the accumulation of this amount of waste. Our industry is full of big soulless companies that manufacture their products with cheap labor and don't even know the origin of their materials. By choosing Lastu for your phone, you support responsible Nordic business.

Read Customer Reviews
Read about our responsibility
STAY UNIQUE, EXPERIENCE GENUINE
FAQ
How can we help you today? Find your answers from our FAQ list or contact us.
Lastu is a Finnish company that specializes in crafting high-quality, eco-friendly accessories for various electronic devices, such as smartphones and smartwatches. They are known for their unique and personalized wooden products that are handmade with great attention to detail.
What kind of products does Lastu offer?

Lastu offers a wide range of products, including wooden phone cases, custom-made cases with logo and picture on your cover, genuine leather cases and phone cases made of real military fabrics. Also lots of cases available with magnetic feature (MagSafe). These products are made from carefully selected, sustainable materials such as real wood and genuine leather, ensuring durability and a natural, premium look.
Can I customize my Lastu product?

Yes, Lastu offers customization options for their products. Customers can personalize their phone cases and other accessories by choosing from a range of design options, including engraved text, logos, and patterns. This allows you to create a unique and personalized item that reflects your style and preferences.
Are Lastu products compatible with all smartphone models?

Lastu provides products that are compatible with popular smartphone models from various brands, including Apple, Samsung, Google, and OnePlus. They offer a comprehensive list of supported devices on their website, allowing customers to choose the right product for their specific phone model.
Is Lastu committed to sustainability?

Absolutely! Lastu is committed to environmental sustainability and responsible production practices. They source their materials from sustainable suppliers and ensure that their manufacturing processes minimize waste and energy consumption. Additionally, they actively participate in reforestation efforts by planting trees for every product sold, contributing to a greener planet.
What materials are the products made of?

We use real Nordic wood as materials, such as curly birch and stained ash. Our ash trees are available in three different colors: Hiilisaarni, Lumisaarni and Kelosaarni. We also make cases from genuine Finnish Army M05 camo fabric and German Bundeswehr Flecktarn Camo fabric. In addition, our selections have reindeer and fish skin covers. You can get all these materials with your own logo/image, as well as a magnetic MagSafe connection for several phone brands with MagSafe accessories.
What MagSafe accessories are available for the cases?

We offer several accessories for our MagSafe compatible cases made with a magnetic feature, such as a finger holder (ring), Tatti Holder (pop holder), and a card wallet made of genuine leather. Sometimes we also offer Qi MagSafe chargers, desk and car mounts and other compatible accessories. Our MagSafe cases are compatible with all MagSafe accessories and chargers on the market and the cases are available for iPhone as well as OnePlus, Samsung, Xiaomi, Nothing, Google Pixel and Huawei models.
Where do you deliver your products?

We deliver our products mainly to Central Europe and the Nordic countries, but you can also order your products to the USA, Canada Japan and Australia. Free delivery only within the EU.
How long does the delivery take?

We deliver our products by Finnish Posti. The duration of delivery depends on your location and the motivation of the postman. We put your product at Posti's mercy within 1-3 days of your order, and the brisk postman will try to deliver your product in EU within 2-5 days. You will receive a notification in your email when your product has been shipped. The mail may also be in your spam folder. We also offer other delivery methods when ordering, such as Parcel Connect and Express. These also come via Posti, but faster and include tracking that you will receive in your mail when the order has been sent.
Do you have any questions about our products? If you want to return your product, please contact our customer service first. Our products have a 14-day right of return. Returns do not apply to customized products. The fastest way to get an answer is to contact us on Facebook. Contact our customer service.
Unique Phone Cases with Real Materials and MagSafe
Phone Covers from Real Materials
Your phone is more than just a device that keeps you connected to the world. It's your lifeline, your go-to for everything from work to play. With so much riding on it, protecting it should be a top priority. That's where the best protective phone cases by Lastu come in. Made with premium materials like real wood, reindeer leather, fish skin, and army camouflage fabrics, these cases offer the ultimate combination of style and protection. And with your own logo and image, as well as MagSafe function, you can personalize your phone case to match your unique personality. Available for iPhone, Samsung, OnePlus, Xiaomi, Huawei, Nothing Phone and Google Pixel.