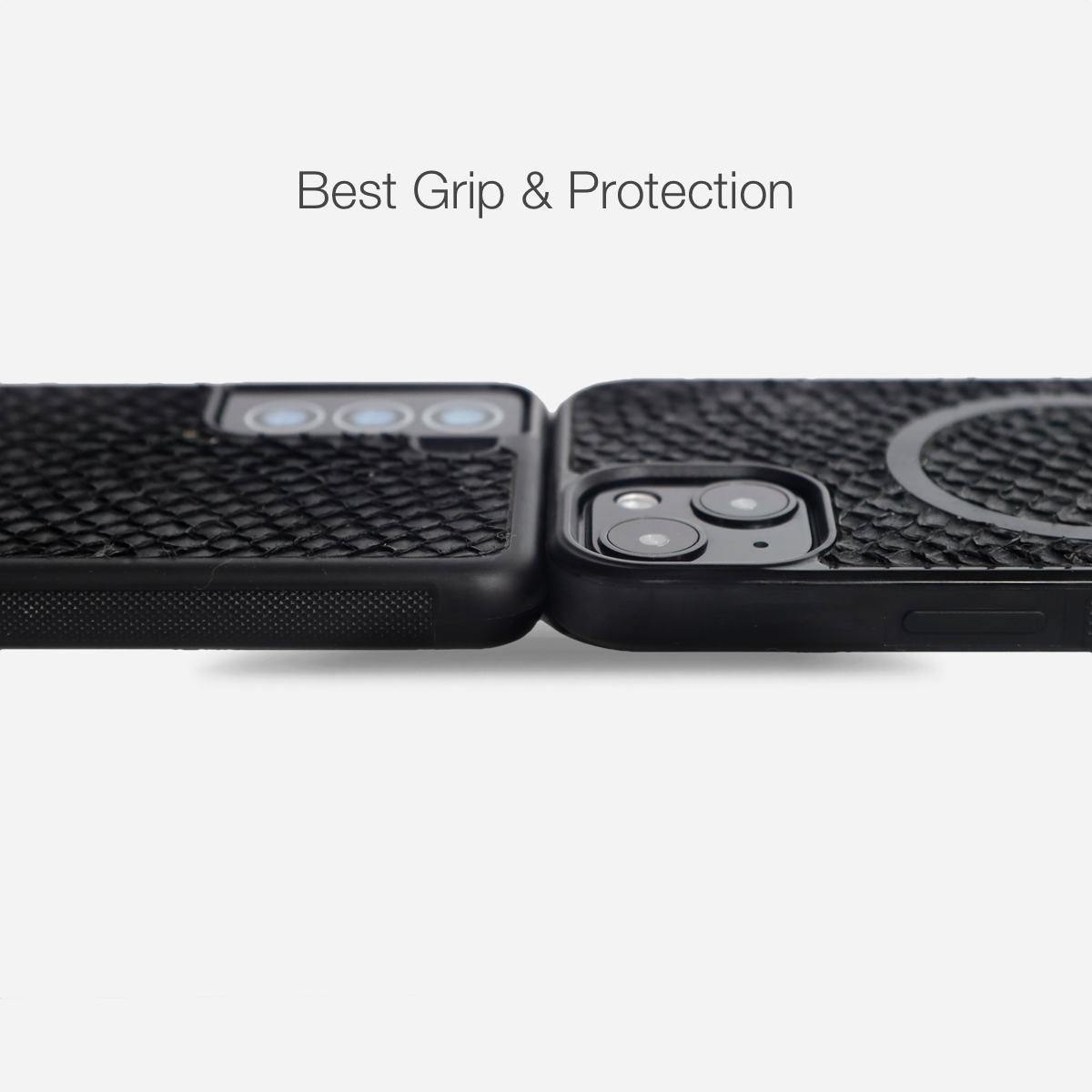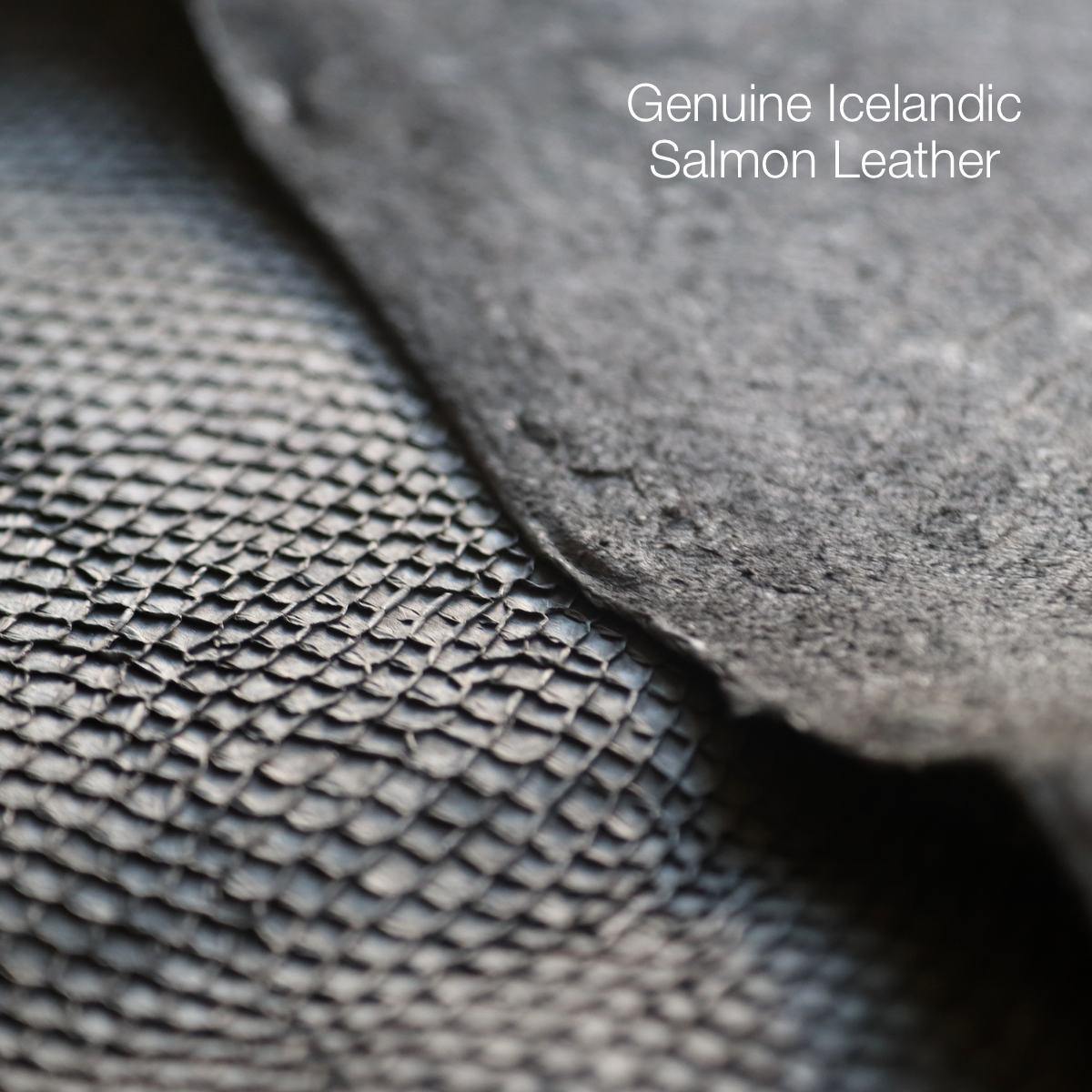 Genuine Matte Black Salmon Case
The Catch of the Day: A Phone Case Made of Real Fish Skin
Hey, have you ever thought about upgrading your phone case to something a little more unique? Something with personality and style? Well, let me tell you about the Genuine Salmon Leather Phone Case by Lastu.
Other phone cases are just plain boring, made of silicone or fake leather that lacks heart and individuality. But not this case! Our Nordic-inspired design and use of natural materials set it apart from the rest.
And don't worry about sacrificing durability for style. Our tough salmon skin exterior provides top-notch protection against scratches and impacts, while the soft interior snugly holds your phone.
But here's the kicker: this case is eco-friendly too! We use salmon skin that would otherwise go to waste, repurposing it into a beautiful accessory for your phone.
At Lastu, we take pride in our attention to detail and use of only the finest materials. Each Genuine Salmon Leather Phone Case is made by hand with care and precision, ensuring a one-of-a-kind accessory that you'll be proud to show off.
So why settle for a boring old phone case when you can upgrade to something truly unique and luxurious? Choose the Genuine Salmon Leather Phone Case by Lastu and experience the beauty and durability of natural materials. Trust us, your phone (and your style) will thank you.
MADE IN FINLAND SINCE 2011
Worldwide shipping. Free shipping in E.U. Shipping starts in 1-4 days.
You can find our Lastu cases and covers for these phone models:

You can get Lastu covers for the most popular iPhone, Samsung Galaxy, OnePlus, Xiaomi, Nothing Phone, Google Pixel and Huawei models, such as:

iPhone:

iPhone 6/6S/7/8

iPhone SE (2020)

iPhone 6/7/8+ PLUS

iPhone 11

iPhone 11 Pro

iPhone 11 Pro Max

iPhone 12 Mini

iPhone 12

iPhone 12 Pro

iPhone 12 Pro Max,

iPhone 13

iPhone 13 Pro

iPhone 13 Pro Max

iPhone 13 Mini

iPhone 14

iPhone 14 Pro

iPhone 14 Plus

iPhone 14 Pro Max

iPhone 15

iPhone 15 Pro

iPhone 15 Plus

iPhone 15 Ultra

iPhone 15 pro Max

iPhone X / Xs

iPhone XS Max

iPhone XR


OnePlus:

OnePlus Nord

OnePlus Nord 2

OnePlus Nord 3

OnePlus Nord 2T

OnePlus Nord CE

OnePlus Nord CE 2

OnePlus Nord CE 2 Lite

OnePlus Nord n100

OnePlus 7

OnePlus 7 pro

OnePlus 7t

OnePlus 7T pro

OnePlus 8

OnePlus 8 pro

OnePlus 8t

OnePlus 9

OnePlus 9 Pro

OnePlus 10 Pro

OnePlus 10T

OnePlus 11

OnePlus 11 Pro


Samsung:

Samsung Galaxy a20e

Samsung Galaxy a21

Samsung Galaxy a32 5g

Samsung Galaxy a33

Samsung Galaxy a40

Samsung Galaxy a41

Samsung Galaxy a51

Samsung Galaxy a52 / a52s

Samsung Galaxy a53

Samsung Galaxy a72

Samsung Galaxy a73

Samsung Galaxy s10

Samsung Galaxy s10+

Samsung Galaxy s20

Samsung Galaxy s20 fe

Samsung Galaxy s20 plus

Samsung Galaxy s20 ultra

Samsung Galaxy s21

Samsung Galaxy s21 fe

Samsung Galaxy s21 plus

Samsung Galaxy s21 ultra

Samsung Galaxy s22

Samsung Galaxy s22 plus

Samsung Galaxy s22 ultra

Samsung Galaxy note 20

Samsung Galaxy note 20 ultra

Samsung Galaxy s23

Samsung Galaxy s23 Plus

Samsung Galaxy s23 Ultra

Nothing Phone:

Nothing Phone 1

Nothing Phone 2

Xiaomi:

Xiaomi redmi 9c nfc

Xiaomi redmi note 8t

Xiaomi mi 11

Xiaomi mi 11 lite

Xiaomi 12 

Xiaomi 12 Pro

Xiaomi 12T

Xiaomi 12T Pro

Huawei/Honor:

honor 10

honor 20 pro

huawei p20

huawei p30 pro

huawei p40

huawei p40 pro

huawei mate 20 pro

Google Pixel:

Google Pixel 6

Google Pixel 7

Google Pixel 7 Pro

Google Pixel 7A
97% RECOMMEND
Read product reviews for this product:
FAQ
Read what customers have asked about our products.
Q1: What materials are the Lastu cases made of?

A1: The Lastu cases available on Lastu.co are crafted using a combination of high-quality materials. The cases feature a durable polycarbonate cover to provide excellent protection for your device. The backside of the case is made from genuine wood veneer, genuine reindeer or salmon leather and real army fabrics which adds a touch of natural elegance. The built-in magnets ensure a secure fit and compatibility with magnetic accessories.
Q2: Are the Lastu cases compatible with wireless charging?

A2: Yes, the magnetic cases offered by Lastu.co are designed to be compatible with wireless charging. The slim design of the cases allows for seamless charging without the need to remove the case. You can conveniently charge your device wirelessly while keeping it protected in the magnetic case.
Q3: Can the magnetic cases interfere with phone signals or NFC functionality?

A3: No, the magnetic cases do not interfere with phone signals or NFC (Near Field Communication) functionality. The magnets used in the cases are carefully placed and engineered to avoid any interference with the phone's essential functions. You can enjoy uninterrupted signal reception and utilize NFC features without any issues while using the magnetic case.
Q4: Will the Lastu case provide sufficient protection for my device?

A4: Absolutely! The cases offered by Lastu.co are designed to provide reliable protection for your device. The combination of a sturdy polycarbonate shell and the genuine wood, leather and military fabric back ensures excellent impact resistance and safeguards your device from everyday bumps, scratches, and accidental drops. The magnetic case offers a good balance of style and protection for your device.
Q5: Can I use magnetic accessories with the magnetic case?

A5: Yes, you can use all MagSafe accessories in the market with the magnetic case from Lastu.co. Our MagSafe cases are equipped with built-in magnets, allowing you to attach various magnetic accessories such as car mounts, stands, or wallets. These accessories provide additional functionality and convenience while using your device with the magnetic case.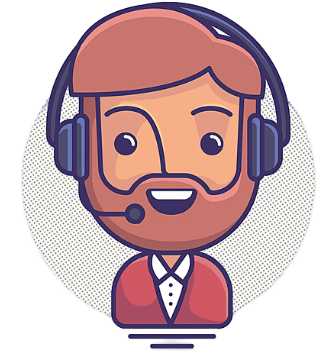 Our customer support is available Monday to Friday: 8am-16pm.
Average answer time: 24h
Get Support