This product has no reviews yet.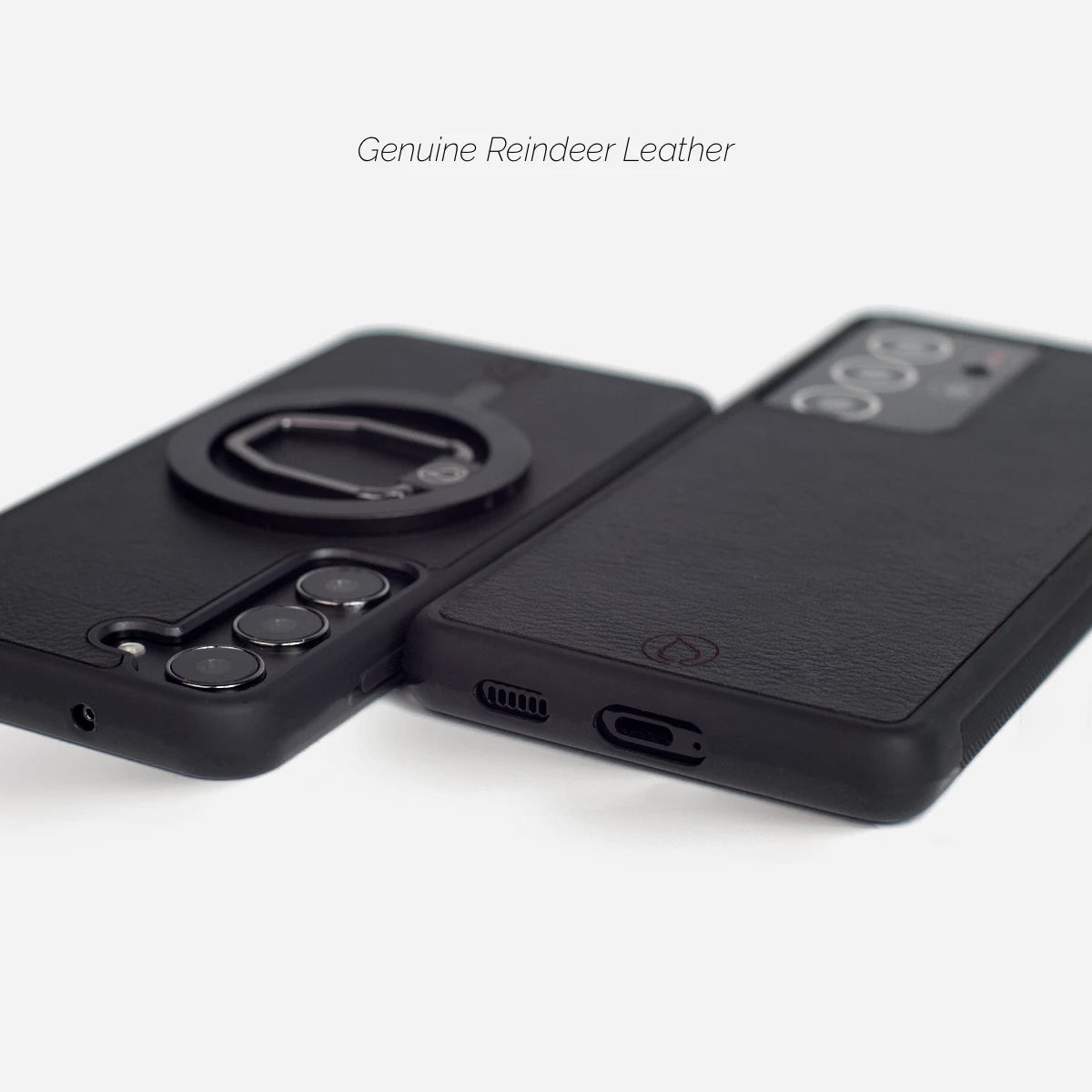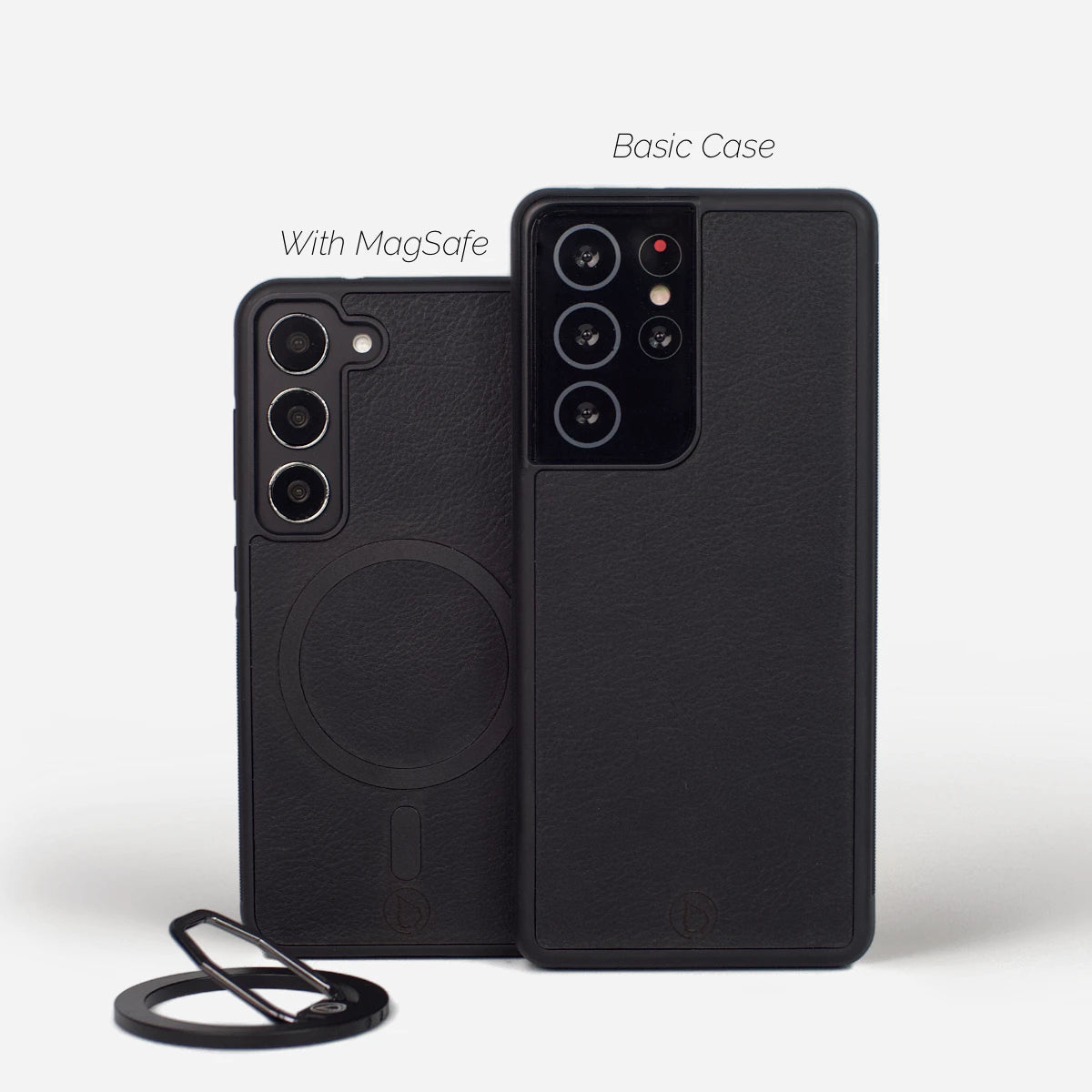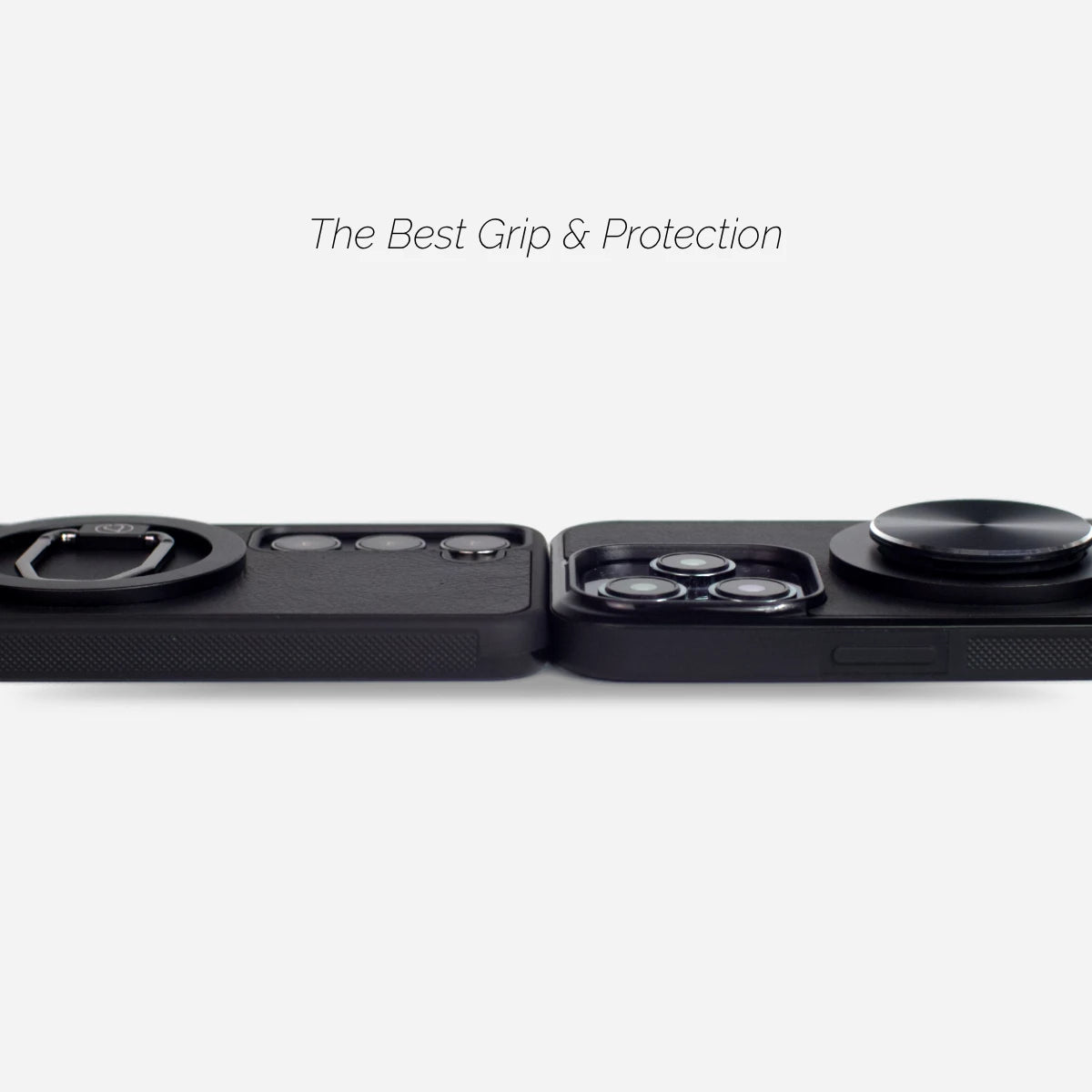 Black Reindeer Leather Phone Case
Luxury and Style Combined: A Phone Case Made of Genuine Sámi Reindeer Leather
Are you in the market for a phone case that's not only stylish but also made from high-quality materials? Look no further than Lastu's reindeer leather phone cases!
These phone cases are made in Finland from genuine Lapland reindeer leather, giving your phone a soft feel and a great grip. Plus, the leather patinas over time, making it look better and better. And the best part? We've treated the leather with a natural, non-toxic preservative so you can feel good about using it.
Ordering is super easy. Just choose your phone model from our website, and you can even add a custom logo if you want. And if you're looking for some extra functionality, you can select the magnetic feature and add on any of our available accessories, including a genuine leather MagSafe wallet, Tatti holder, or MagSafe ring holder. These accessories are compatible with all MagSafe wallets, chargers, and accessories on the market, so you know you're getting the best.
And here's something else that's pretty cool - for every kilogram of plastic we use in the manufacturing process, we support the collection of one kilogram of plastic waste from nature. So you can feel good about your purchase knowing that you're helping to make the world a little bit better.
So what are you waiting for? Order your Lastu reindeer leather phone case today and experience the luxury and functionality of this unique product. We'll manufacture it for you and have it in the mail within 1-4 days. And remember, every product you order is important to us and greatly appreciated!
Our currently available magnetic add-ons:
Genuine leather MagSafe wallet (Brown), for 1-4 cards
Genuine leather MagSafe wallet (Black), for 1-4 cards
Tatti Holder
MagSafe Ring Holder
MADE IN FINLAND SINCE 2011
Worldwide shipping. Free shipping in E.U. Shipping starts in 1-4 days.
You can find our Lastu cases and covers for these phone models:

You can get Lastu covers for the most popular iPhone, Samsung Galaxy, OnePlus, Xiaomi, Nothing Phone, Google Pixel and Huawei models, such as:

iPhone:

iPhone 6/6S/7/8

iPhone SE (2020)

iPhone 6/7/8+ PLUS

iPhone 11

iPhone 11 Pro

iPhone 11 Pro Max

iPhone 12 Mini

iPhone 12

iPhone 12 Pro

iPhone 12 Pro Max,

iPhone 13

iPhone 13 Pro

iPhone 13 Pro Max

iPhone 13 Mini

iPhone 14

iPhone 14 Pro

iPhone 14 Plus

iPhone 14 Pro Max

iPhone 15

iPhone 15 Pro

iPhone 15 Plus

iPhone 15 Ultra

iPhone 15 pro Max

iPhone X / Xs

iPhone XS Max

iPhone XR


OnePlus:

OnePlus Nord

OnePlus Nord 2

OnePlus Nord 3

OnePlus Nord 2T

OnePlus Nord CE

OnePlus Nord CE 2

OnePlus Nord CE 2 Lite

OnePlus Nord n100

OnePlus 7

OnePlus 7 pro

OnePlus 7t

OnePlus 7T pro

OnePlus 8

OnePlus 8 pro

OnePlus 8t

OnePlus 9

OnePlus 9 Pro

OnePlus 10 Pro

OnePlus 10T

OnePlus 11

OnePlus 11 Pro


Samsung:

Samsung Galaxy a20e

Samsung Galaxy a21

Samsung Galaxy a32 5g

Samsung Galaxy a33

Samsung Galaxy a40

Samsung Galaxy a41

Samsung Galaxy a51

Samsung Galaxy a52 / a52s

Samsung Galaxy a53

Samsung Galaxy a72

Samsung Galaxy a73

Samsung Galaxy s10

Samsung Galaxy s10+

Samsung Galaxy s20

Samsung Galaxy s20 fe

Samsung Galaxy s20 plus

Samsung Galaxy s20 ultra

Samsung Galaxy s21

Samsung Galaxy s21 fe

Samsung Galaxy s21 plus

Samsung Galaxy s21 ultra

Samsung Galaxy s22

Samsung Galaxy s22 plus

Samsung Galaxy s22 ultra

Samsung Galaxy note 20

Samsung Galaxy note 20 ultra

Samsung Galaxy s23

Samsung Galaxy s23 Plus

Samsung Galaxy s23 Ultra

Nothing Phone:

Nothing Phone 1

Nothing Phone 2

Xiaomi:

Xiaomi redmi 9c nfc

Xiaomi redmi note 8t

Xiaomi mi 11

Xiaomi mi 11 lite

Xiaomi 12 

Xiaomi 12 Pro

Xiaomi 12T

Xiaomi 12T Pro

Huawei/Honor:

honor 10

honor 20 pro

huawei p20

huawei p30 pro

huawei p40

huawei p40 pro

huawei mate 20 pro

Google Pixel:

Google Pixel 6

Google Pixel 7

Google Pixel 7 Pro

Google Pixel 7A
This product has no reviews yet.
97% RECOMMEND
Read product reviews for this product:
This product has no reviews yet.
FAQ
Read what customers have asked about our products.
Q1: What materials are the Lastu cases made of?

A1: The Lastu cases available on Lastu.co are crafted using a combination of high-quality materials. The cases feature a durable polycarbonate cover to provide excellent protection for your device. The backside of the case is made from genuine wood veneer, genuine reindeer or salmon leather and real army fabrics which adds a touch of natural elegance. The built-in magnets ensure a secure fit and compatibility with magnetic accessories.
Q2: Are the Lastu cases compatible with wireless charging?

A2: Yes, the magnetic cases offered by Lastu.co are designed to be compatible with wireless charging. The slim design of the cases allows for seamless charging without the need to remove the case. You can conveniently charge your device wirelessly while keeping it protected in the magnetic case.
Q3: Can the magnetic cases interfere with phone signals or NFC functionality?

A3: No, the magnetic cases do not interfere with phone signals or NFC (Near Field Communication) functionality. The magnets used in the cases are carefully placed and engineered to avoid any interference with the phone's essential functions. You can enjoy uninterrupted signal reception and utilize NFC features without any issues while using the magnetic case.
Q4: Will the Lastu case provide sufficient protection for my device?

A4: Absolutely! The cases offered by Lastu.co are designed to provide reliable protection for your device. The combination of a sturdy polycarbonate shell and the genuine wood, leather and military fabric back ensures excellent impact resistance and safeguards your device from everyday bumps, scratches, and accidental drops. The magnetic case offers a good balance of style and protection for your device.
Q5: Can I use magnetic accessories with the magnetic case?

A5: Yes, you can use all MagSafe accessories in the market with the magnetic case from Lastu.co. Our MagSafe cases are equipped with built-in magnets, allowing you to attach various magnetic accessories such as car mounts, stands, or wallets. These accessories provide additional functionality and convenience while using your device with the magnetic case.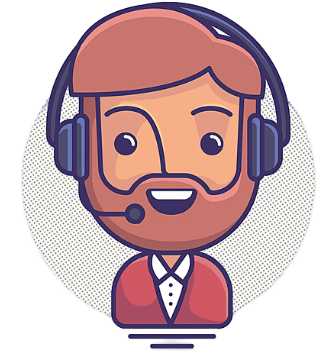 Our customer support is available Monday to Friday: 8am-16pm.
Average answer time: 24h
Get Support